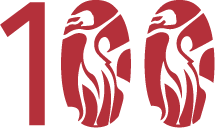 MERRIMACK HALL
centennial birthday
Celebration
Join us for an iconic concert on August 29!
For 100 years, Merrimack Hall has served as the hub of community and culture for the residents of Huntsville.
On August 29th at 6:30pm, we are honoring our building's history and heritage with a Centennial Birthday Celebration, featuring a concert by the adults with special needs enrolled in our Happy Days program.
The Centennial Birthday Celebration will feature a set list of iconic songs performed on our stage by the adults with special needs in our Happy Days program, followed by a reception in our dance studio.
The Happy Days program serves over 100 adults with special needs by offering a wide variety of activities that help build confidence, social skills and independent living skills for adults with special needs. Each session includes: music therapy; educational lessons that are informative and designed to support cognitive function; visual art projects in a variety of media; physical activities such as yoga, dance and active games, life skills, and frequent field trips for activities such as bowling, Special Olympics, visits to area attractions and more.

This concert will be a culmination of the past 6 months of activities for the Happy Days participants, displaying their artistic abilities to the public at large as Merrimack Hall endeavors to become the Gold Standard for Inclusion in Madison County and State of Alabama.